Log Cottage Restoration - 2022
This project consisted of a log home restoration in Wellington County back in Fall 2021. The owners run an Air B&B and weren't sure if their log home could be restored back to the original beauty. After blasting with our high-end mold treatment, we let the product work it's magic. After letting the treatment sit over the winter, we returned back in May 2022 for the refinishing. As the below pictures show, the log home owner was beyond impressed with the results. This is the quality you consistently get when choosing True North Restoration!
Another Log Home Blasting & Refinishing Project - 2022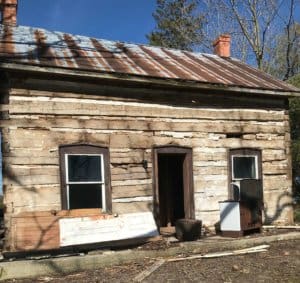 Before the blasting and refinishing services, we were given this project with an old log home. Most homeowners think there is not a way to restore a home that's this weathered. Yet, our products and services at True North Restoration are designed for the best results. After blasting, repairing, and chinking the home, it turned into a beautiful property again. We enjoy projects that help give log home owners the best lifespan for their home.
The results at True North Restoration are consistent. We pride ourselves on being precise, professional, and knowledgable. When it comes to restoring your log home, there's no denying the quality of work we provide. We know that each job, big or small, is meaningful to a client. That's why every project is handled with care and done to our best ability.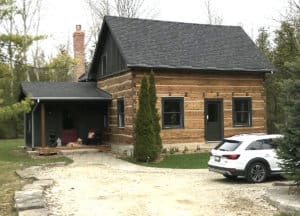 Log Home Stain Job in Blue Mountain - 2021
We tackled a log home job in the Blue Mountains in 2021. The log home had a failing stain product as well as mold issues. This called for our blasting and mold treatment services. We removed all the mold and the existing stain through two coats of mold treatment, and Timber Pro sealer. The outcome is a gorgeous log home protected from the elements!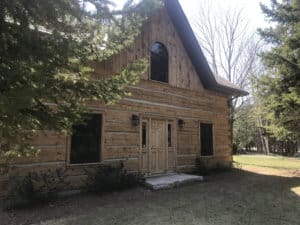 Log Home Restoration and Stain in Ottawa - 2021
This job was proposed by a gentleman who just bought a log home in Ottawa. After discussion the project further, he made it clear that he wanted a full restoration. Media blasting, mold treatment, and coatings were all needed to bring this log home to life. The client loved the final result and looked great in the forest setting.
At True North Restoration, we do log home restoration year round. We want to maintain ourselves as the most trustworthy log home maintenance team in Ontario. We know the support needs to be throughout all seasons, which is why our clients have all been happy with us. Often, winters can be harsh in Ontario. We want our clients to know that we perform quality services throughout all season so your log home is always looking perfect.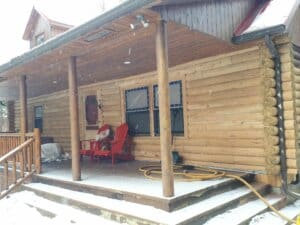 Other Restoration Jobs We're Proud to Share
Being in the log home repair industry for 30+ years, we have a lot to be proud of. Here are a few of our favourite projects, all of which are restoring, staining, and refinishing a log home. Even for new log homes, it's important to have a team apply the proper stain so the wood isn't damaged from the sun, weather, or outdoor creatures.