Apply Log Home Chinking Myself? | Or Hire a Pro?
The purpose of chinking in a log home is to seal the gaps between the logs. This type of repair prevents drafts, insects, and moisture from entering the home. It also helps to maintain the structural integrity of the home by keeping the logs in place and preventing any shifting. When dealing with log home imperfections, it is important to trust our knowledge. We want to protect your log home to ensure you feel safe. Besides its practical benefits, it also add to the visual appeal of a log home by creating a seamless finish between the logs. It can also help to protect the logs from the elements, which can extend the life of the home.
Why Do We Need Log Chinking?
By sealing the gaps between the logs, this repair can help to prevent drafts. Also, this process reduces heat loss, which can lead to lower energy bills.
Chinking can help to prevent moisture from entering the home. Any rain or snow can enter penetration holes in log homes. Our maintenance process helps to reduce the risk of rot and other types of damage from moisture.
Chinking can help to keep the logs in place and prevent them from moving or settling. This helps with the longevity and durability of the log home.
Log Cabin Chinking in Ontario
A good log cabin company should be able to provide a range of services to help maintain and repair the chinking on a home
. These services may include:
Inspection: A quality company should be able to assess the current condition of a log home. Recommending any necessary repairs that would benefit the home owner is key.
Repair: If the chinking on a log home
is damaged
or has become ineffective, the company should be able to repair or replace it as needed
.
Maintenance: Regular maintenance ensures the log home remains effective over time. This may include cleaning, resealing, and preventing drafts and moisture infiltration.
Color matching: Matching the colour of the chinking to the logs is important for the wood refinishing process.
A good log home company provides a range of services to help maintain and repair a log home. Meeting the needs of clients and each specific home helps make a happy customer.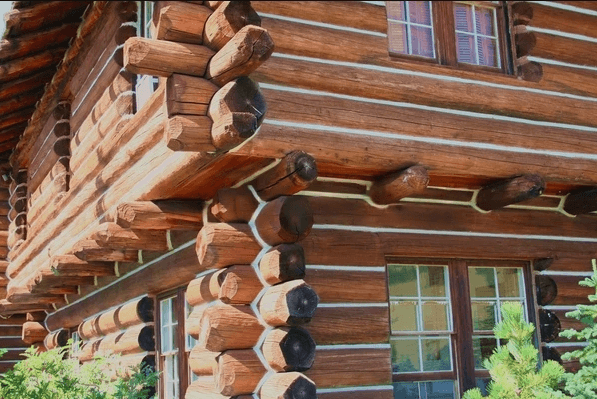 Do Log Homes Need Chinking?
This is a common question we receive from our customers across Ontario. A lot of homeowners do not realize the importance of the below services. In summary, log home services help extend the life of the home. If you just purchased a new log home, chances are it'll need some perfecting before you fully move in. Meaning, it's good to have the chinking, sealing, and inspection done so you know this investment will last. Log home owners in Ontario know that True North Restoration is the best company for maintenance work. We offer 7-day a week support so that there aren't any issues with your home. Call us for a free quote and check out our services below!
What is Chinking Made From?
The True North Restoration Guarantee
One of the best things you can do for your log home is consistent care. Our professionals recommend that you have your home inspected annually. If you choose our company, we can provide the best quality service year-round. Meaning, if there are any issues with your home, we can be proactive and not let the problems worsen. These inspections allow us to determine if logs are rotting, weakening, or need replacement. If you aren't sure what service is best for you, check out of log home services page. Another additional resource would be calling the owner. He has 30+ years of log home experience so he is the right person to answer any questions.